My Computer System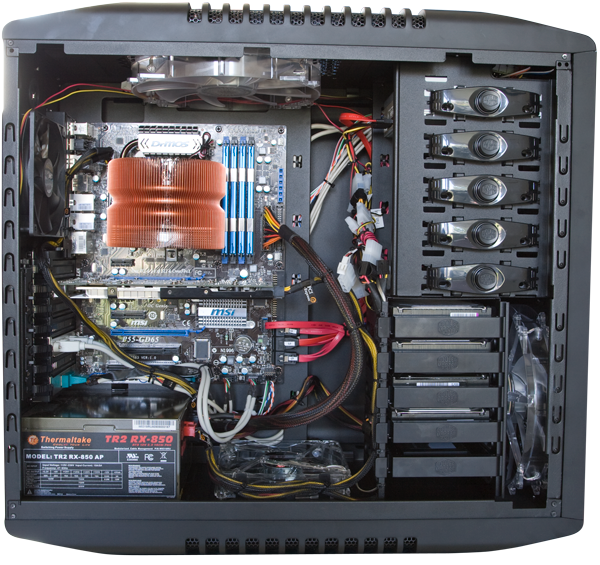 Under the Hood:
CPU: Intel Core i7 2.8 GHz overclocked to 3.56GHz
Motherboard: MSI P55-GD65
RAM: 8GB Kingston HyperX 240-Pin DDR3 SDRAM 1600 (PC3 12800)
Case: Cooler Master Storm Sniper (3x 200mm, 1x 140mm, 1x 120mm fans)
Video Card: nVidia GeForce 8800 GT (weakest part of the system)
DVD Drive: MSI SATA DH-24AAS-17 R 24x/12x/48x DVD Burner
Primary Hard Drive: OCZ Vertex Turbo OCZSSD2-1VTXT60G 2.5" 60GB SATA II MLC
Data Hard Drives: 2x Seagate 1TB in Raid 1 (Mirrored for redundancy)
Extra Hard Drive: Seagate 500GB for cache and ripped video storage
One More Hard Drive: Western Digital 250GB for my Windows XP system
CPU Cooler: ZALMAN CNPS9700 LED 110mm 2 Ball
Windows 7 Home Premium
Backups via Thermaltake BlacX ST0005U External Hard Drive SATA Docking Station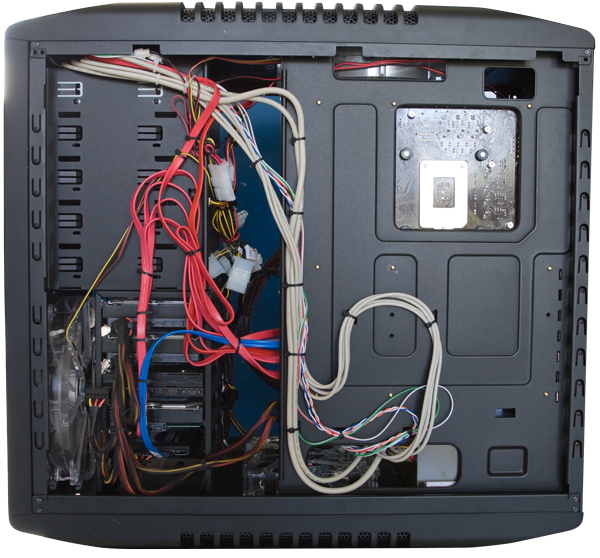 As you'll see, I spent a lot of time and bunches of zip ties getting all the cables as neat as possible to keep the airflow moving. This case is huge and I love the 200mm fan that sits directly in front of the five hard drives. Another 200mm fan pulls air in from the side. A 140mm fan sucks air in from the bottom, as does the power supply which is isolated from the rest of the case. My 110mm CPU cooler blows air up to the final 200mm fan which ejects all the hot out out the top of the case. As if that isn't enough, there is also one more fan, a 120mm that blows out the back of the case. All openings are also protected with micro screens to keep the dust under control - and that makes a major difference. All this keeps my CPU cool, even when overclocked by 27%. I run 36°C at idle and haven't seen it go over 60°C after an hour on the prime95 stress test.
The case also sports a eSATA, FireWire 400, and four USB ports at the top front where they are easy to access. Another eSATA port on the back connects to my eSATA hard drive dock for convenient backups.
The meager video card is connected (via DVI cables) to two Samsung 204B (20" each) that are mounted on the wall behind my desk. I'm sure I left something out, but there's the basics.